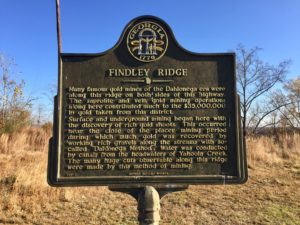 Year Erected: 1989
Marker Text: Many famous gold mines of the Dahlonega era were along this ridge on both sides of this highway. The saprolite and vein gold mining operations along here contributed much to the $35,000,000 in gold taken from this district.
Surface and underground mining began here with the discovery of rich gold shoots. This occurred near the close of the placer mining period during which much gold was recovered by working rich gravels along the streams with so-called "Dahlonega Method". Water was conducted by canals from the headwaters of Yahoola Creek. The many huge cuts observable along this ridge were made by this method of mining.
Tips for Finding This Site: Located on U.S. 19 0.1 miles south of Mountain Drive in Dahlonega.