Year Erected: 2015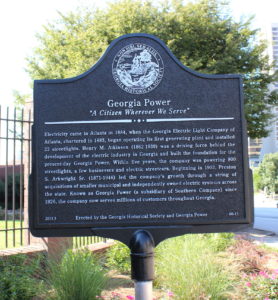 Marker Text: Electricity came to Atlanta in 1884, when the Georgia Electric Light Company of Atlanta, chartered in 1883, began operating its first generating plant and installed 22 streetlights. Henry M. Atkinson (1862-1939) was a driving force behind the development of the electric industry in Georgia and built the foundation for the present-day Georgia Power. Within five years, the company was powering 800 streetlights, a few businesses and electric streetcars. Beginning in 1902, Preston S. Arkwright Sr. (1871-1946) led the company's growth through a string of acquisitions of smaller municipal and independently owned electric systems across the state. Known as Georgia Power (a subsidiary of Southern Company) since 1926, the company now serves millions of customers throughout Georgia.
Erected by the Georgia Historical Society and Georgia Power
Tips for Finding This Marker: At the corners of Ralph McGill and Piedmont. The marker is located in a flowerbed by a brick wall that designates Georgia Power's property.