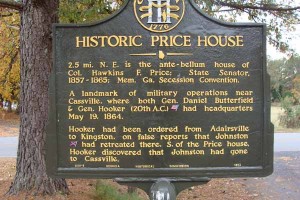 Year Erected: 1952

Marker Text: 2.5 mi. N.E. is the ante-bellum house of Col. Hawkins F. Price; State Senator, 1857-1865; Mem Ga. Secession Convention.

A Landmark of military operations near Cassville, where both Gen. Daniel Butterfield & Gen Hooker (20th A.C.) [USA] had headquarters May 19,1864.

Hooker had been order from Adairsville to Kingston, on false reports that Johnston [CSA] had retreated there. S. of Price House, Hooker discovered that Johnston had gone to Cassville.

Tips for Finding This Site: On Law Road 1.2 miles north of Kingston Highway (Georgia Route 293), on the left when traveling north in Kingston.