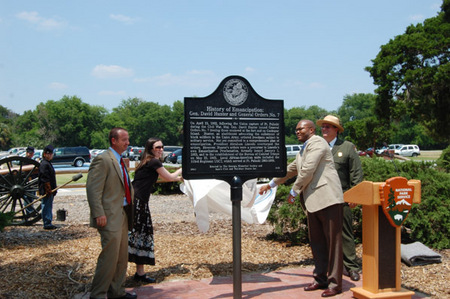 Year Erected: 2008
*Marker Text: On April 13, 1862, following the U.S. capture of Ft. Pulaski during the Civil War, Maj. Gen. David Hunter issued General Orders No. 7 freeing those enslaved at the fort and on Cockspur Island. Hunter later issued General Orders No. 11 freeing those in Georgia, South Carolina, and Florida on May 9, 1862. Hunter, an abolitionist advocating the enlistment of black soldiers in the U.S. Army, ordered freedmen subject to military service.  Not yet committed to a comprehensive plan of emancipation, President Abraham Lincoln overturned the orders.  However, Hunter's orders were a precursor to Lincoln's own Emancipation Proclamation, formally issued January 1, 1863, and to the establishment of the Bureau of Colored Troops on May 22, 1863.  Local African-American units included the 103rd Regiment USCT, which served at Ft. Pulaski 1865-1866.
Erected by the Georgia Historical Society and Sam's Club and Wal-Mart Stores, Inc.
*This marker is missing.
Tips for Finding This Site: At Fort Pulaski National Monument, Visitors Center off of US Highway 80 East in Savannah.