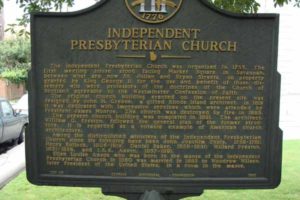 Year Erected: 1955
Marker Text:  The Independent Presbyterian Church was organized in 1755. The first meeting house stood facing Market Square in Savannah, between what are now St. Julian and Bryan Streets, on property granted by King George II for the use and benefit of those dissenters who were professors of the doctrines of the Church of Scotland agreeable to the Westminster Confession of Faith.
The original church building erected on the present site was designed by John H. Greene, a gifted Rhode Island architect. In 1819 it was dedicated with impressive services which were attended by President James Monroe. The church was destroyed by fire in 1889.
The present church building was completed in 1891. The architect, William G. Preston, followed the general plan of the former structure. It was regarded as a notable example of American church architecture.
Among the distinguished ministers of the Independent Presbyterian Church since its founding have been John Joachim Zubly, 1758- 1781; Henry Kollock, 1806- 1819; Daniel Baker, 1828- 1831; Willard Preston, 1831- 1856, and I.S.K. Axson, 1857- 1891.
Ellen Louise Axson who was born in the manse of the Independent Presbyterian Church in 1860 was married in 1883 to Woodrow Wilson, later President of the United States, in a room in the manse.
Tips for Finding This Marker: On Bull Street near Oglethorpe Avenue, on the left in Savannah.