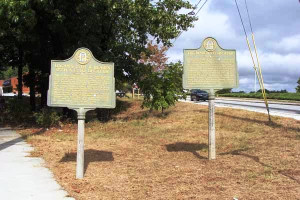 Year Erected: 1954
Marker Text: July 19, 1864. Logan's troops, in "light fighting order" left camp at Henderson's Mill (.8 mile N.E.), at 5 A.M. & marched to Decatur. They were joined at this point by Blair's corps which had camped at Blake's Mill, 2 miles west.
Both corps, Logan leading, marched S. & W. by rds. now designated Henderson Mill, LaVista, Montreal & Lawrenceville.
These troops, together with Garrard's cavalry, formed the left wing of Sherman's [US] advance to Atlanta. On this date, the right wing (14th A.C.), was at Moore's Mill, Peachtree Creek, 10 miles south-west of this point.
Tips for Finding This Site: Briarcliff and Henderson Mill Roads in Decatur.