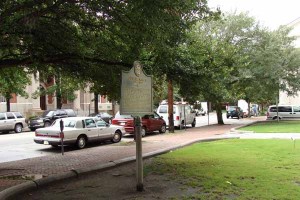 Year Erected: 1955
Marker Text: Lowell Mason, noted composer of sacred music, was organist of the Independent Presbyterian Church (1820-1827), and Superintendent of its Sunday School (1815- 1827).
A native of New England, Mason moved to Savannah at the age of twenty. He resided in this city for approxiamately fifteen years until his return to Massachussetts in 1827. He was active in the civic and religious life of his adopted city. He served as Secretary of the Savannah Missionary Society; was an active organizer of a school for the instruction of sacred music, and was Superintendent of the inter-denominational Savannah Sabbath School.
While Mason was the organist of the Independent Presbyterian Church, he set to music Bishop Reginald Heber's hymn, "From Greenland's Icy Mountains." In the church that then stood on this site the now famous hymn was sung in 1824 for the first time.
Among later well known compositions by Mason was the music for the great hymns, "My Faith Looks Up to Thee" and "Nearer, My God, to Thee."
Tips for Finding This Site: Bull Street and Oglethorpe Avenue in Savannah.