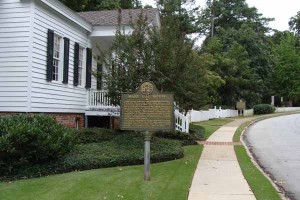 Year Erected: 1981
Marker Text: Author, poet, historian and Confederate heroine ~ Mary Ann Harris Gay (1828-1918) lived in this house from 1850 to 1914. She is best known for her Life in Dixie During the War which describes the Union Siege of Atlanta and the tribulations of the home front. From this house, Miss Mary and her family, the Stokes, witnessed the skirmishing in Decatur on July 22, 1864, while hiding in the cellar. General Kenner Garrard's cavalry headquartered on the property where the house once stood.
The house was placed on the National Register of Historic Places in 1975 and moved from Marshall Street to this site by Junior League of DeKalb County, Inc. in 1979.
Tips for Finding This Site: 716 West Trinity Place in Decatur.