Year Erected: 2019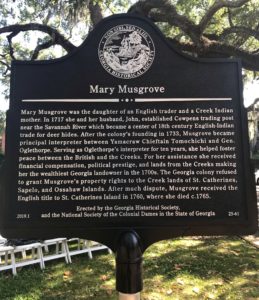 Marker Text: Mary Musgrove was the daughter of an English trader and a Creek Indian mother. In 1717 she and her husband, John, established Cowpens trading post near the Savannah River which became a center of 18th century English-Indian trade for deer hides. After the colony's founding in 1733, Musgrove became principal interpreter between Yamacraw Chieftain Tomochichi and Gen. Oglethorpe. Serving as Oglethorpe's interpreter for ten years, she helped foster peace between the British and the Creeks. For her assistance she received financial compensation, political prestige, and lands from the Creeks making her the wealthiest Georgia landowner in the 1700s. The Georgia colony refused to grant Musgrove's property rights to the Creek lands of St. Catherines, Sapelo, and Ossabaw Islands. After much dispute, Musgrove received the English title to St. Catherines Island in 1760, where she died c.1765.
Erected by the Georgia Historical Society and the National Society of the Colonial Dames in the State of Georgia
Tips for Finding This Marker: Located on Lafayette Square near the Andrew Low House.