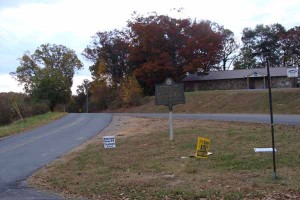 Year Erected: 1953
Marker Text: May 16, 1864. Maj. Gen. Joseph Hooker (20th A. C.) [US], moving E. from Resaca, with orders to cross at Newtown Fy., elected to usurp the crossing at McClure's thereby forcing Schofield's 23d A. C. [US] to proceed E. to Field's Mill & Ferry.
Williams' (1st) & Geary's (2d) divs. [US] crossed at night on a temporary bridge. To hasten progress, Butterfield's (3d) div. [US] moved on to Field's — further complicating affairs by getting there ahead of Schofield.
The 23d A. C., with Stoneman's & McCook's Cavalry, constituted the left wing of Sherman's advance S. from Resaca.
Tips for Finding This Site: East of Ga 225 on Pine Chapel Rd across from Pine Chapel