Year Erected: 1954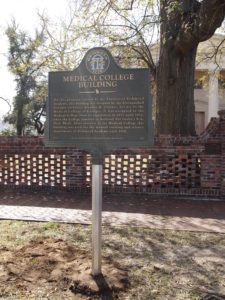 Marker Text: On this property, owned by the Trustees of Richmond Academy, this building was designed by the distinguished Georgia architect, Charles B. Cluskey, for use by the Medical College of Georgia. It was occupied by the Medical College from its completion in 1835 until 1912, when the College removed to Railroad Ave (today's R.A. Dent Blvd). After removal of the Medical College this building was used for the manual training and science departments of Richmond Academy until 1926.
Re-erected in 2016 by the Georgia Historical Society
Tips for Finding This Marker: On Telfair Street, on the left when traveling west in Augusta.