Year Erected: 1999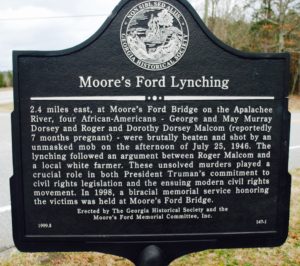 Marker Text: 2.4 miles east, at Moore's Ford Bridge on the Apalachee River, four African-Americans ­– George and Mae Murray Dorsey and Roger and Dorothy Dorsey Malcom (reportedly 7 months pregnant) – were brutally beaten and shot by an unmasked mob on the afternoon of July 25, 1946. The lynching followed an argument between Roger Malcom and a local white farmer. These unsolved murders played a crucial role in both President Truman's commitment to civil rights legislation and the ensuing modern civil rights movement. In 1998, a biracial memorial service honoring the victims was held at Moore's Ford Bridge.
Erected by the Georgia Historical Society and the Moore's Ford Memorial Committee
For information on the current status of this unsolved case, click here .
Tips for Finding This Site: US Hwy. 78 and Locklin Road at the Oconee County line