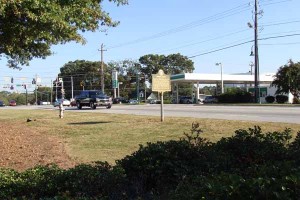 Year Erected: 1989
Marker Text: Morrow Station was established as a depot on the Macon & Western R. R. when it was put into operation in 1846. A post office was opened here in 1871, and the City of Morrow was incorporated in 1943.
The birthplace and childhood home of Capt. William A. Fuller, Western & Atlantic R. R. conductor who recaptured the locomotive the General stolen by Andrews' Raiders at Big Shanty on April 12, 1862, was within what are now the city limits of Morrow. The pursuit, led by Fuller, ended N. of Ringgold where the engine, abandoned by Andrews and the Union soldiers accompanying him, was retaken. Fuller, 26 at the time of the raid, was widely praised for his part in thwarting Andrews' plan to break the Confederate supply line by burning bridges of the W.&A. R.R. After a career of about 20 years with the R.R., Fuller became a merchant in Atlanta, living there until his death in 1905.
The oldest churches in the Morrow vicinity include Philadelphia Presbyterian (1825), Mt. Zion Baptist (1846), Morrow Methodist (1868), and Morrow Baptist (1898).
Tips for Finding This Site: In front of Morrow City Hall, Ga 54 in Morrow.