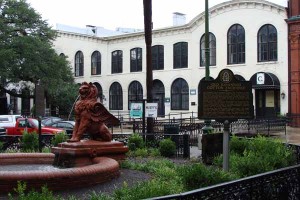 Year Erected: 1957
Marker Text: The Savannah Cotton Exchange building was completed in 1887 during the era when Savannah ranked first as a cotton seaport on the Atlantic and second in the world. In its heyday as a cotton port over two million bales a year moved through Savannah. The Cotton Exchange was the center of activity in the staple which dominated this city's economic life before its evolution into a leading industrial seaport.
The Exchange was designed by the nationally-known Boston architect, William Gibbons Preston (1844- 1910). His design won out in a competition participated in by eleven architects. The Exchange is believed to be one of the few structures in the world erected over an existing public street.
The beautiful iron railing around this grass plat, with panels featuring medallions of famous statesmen, authors and poets, once graced the ante-bellum Wetter House in Savannah.
The former Cotton Exchange is now the headquarters of the Savannah Chamber of Commerce, which cordially invites you to drop in for a visit.
Tips for Finding This Site: In park at Bay and Drayton Streets, Savannah