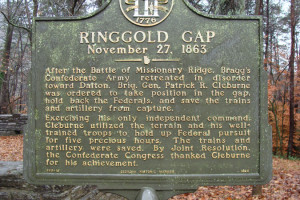 Year Erected: 1996
Marker Text: November 27, 1863
After the battle of Missionary Ridge, Bragg's Confederate Army retreated through the gap in disorder towards Dalton. Brig. Gen. Patrick R. Cleburne was ordered to take position in the gap, hold back the Federals, and save the trains and artillery from capture.
Exercising his only independent command, Cleburne utilized the terrain and his well-trained troops to hold up Federal pursuit for five precious hours. The trains and artillery were saved. By Joint Resolution, the Confederate Congress thanked Cleburne for his achievement.
Tips for Finding This Site: US 41 at the Ringgold Pavillion on US 41 in Ringgold.