Year Erected: 1953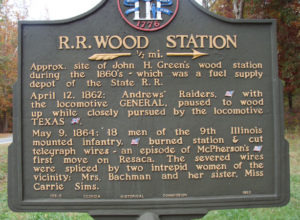 Marker Text: Approx. site of John H. Green's wood station during the 1860s – which was a fuel supply depot of the State R.R.
April 12, 1862: Andrews' Raiders [US] with the locomotive GENERAL, paused to wood up while closely pursued by the locomotive TEXAS [CS].
May 9, 1864: 18 men of the 9th Illinois mounted infantry, [US] burned station & cut telegraph wires – an episode of McPherson's [US] first move on Resaca. The severed wires were spliced by two intrepid women of the vicinity: Mrs. Bachman and her sister, Miss Carrie Sims.
Tips for Finding This Site: Nance Spring Rd and Gracie Rd, east of US 41