Year Erected: 2014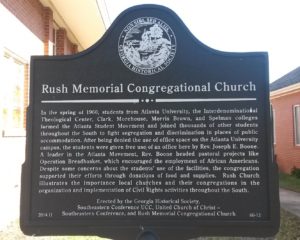 Marker Text: In the spring of 1960, students from Atlanta University, the Interdenominational Theological Center, Clark, Morehouse, Morris Brown, and Spelman colleges formed the Atlanta Student Movement and joined thousands of other students throughout the South to fight segregation and discrimination in places of public accommodation. After being denied the use of office space on the Atlanta University campus, the students were given free use of an office here by Rev. Joseph E. Boone. A leader in the Atlanta Movement, Rev. Boone headed pastoral projects like Operation Breadbasket, which encouraged the employment of African Americans. Despite some concerns about the students' use of the facilities, the congregation supported their efforts through donations of food and supplies. Rush Church illustrates the importance of local churches and their congregations in the organization and implementation of civil rights activities throughout the South.
Erected by the Georgia Historical Society, Southeastern Conference UCC, United Church of Christ – Southeastern Conference, and Rush Memorial Congregational Church.
Tips for Finding This Marker: Rush Church is near the end of the pedestrian walkway (James P. Brawley) and its intersection with Parsons Street, SW.