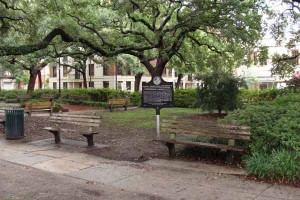 Year Erected: 2008
Marker Text: In March 1750, the Georgia Trustees in London resolved to allow colonists to elect a representative assembly to meet in Savannah, Georgia's colonial capital. Sixteen delegates met on January 15, 1751, for a twenty-four-day session. Representative government continued in 1755 in the Commons House of Assembly, which by 1770 began meeting in a building on the southeast trust lot of Reynolds Square. In 1777, the new state constitution provided for an elected House of Assembly. The Georgia constitution of 1789 expanded the legislature to two houses, known as the General Assembly.
Erected by the Georgia Historical Society and the Office of the Secretary of State
Tips for Finding This Site: The Southeast corner of Reynolds Square.