Year erected: 2002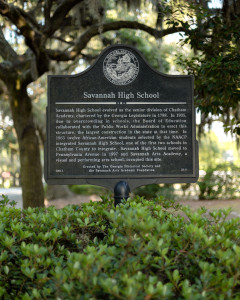 Marker Text: Savannah High School evolved as the senior division of Chatham Academy, chartered by the Georgia Legislature in 1788. In 1935, due to overcrowding in schools, the Board of Education collaborated with the Public Works Administration to erect this structure, the largest construction in the state at that time. In 1963 twelve African-American students selected by the NAACP integrated Savannah High School, one of the first two schools in Chatham County to integrate. Savannah High School moved to Pennsylvania Avenue in 1997 and Savannah Arts Academy, a visual and performing arts school, occupied this site.
Erected by the Georgia Historical Society and the Savannah Arts Academy Foundation
Tips for Finding This Marker: 500 Washington Avenue, in Savannah.