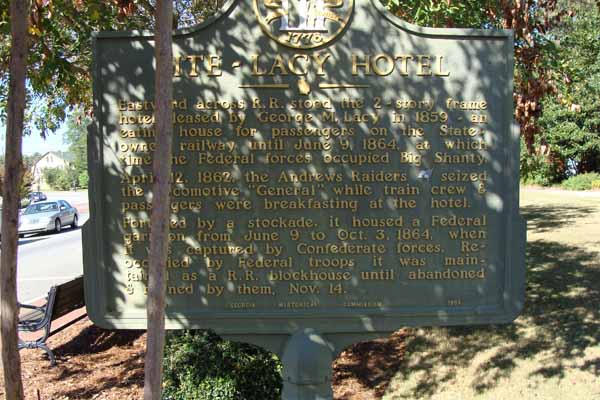 Year Erected: 1954
Marker Text: Eastward across R. R. stood the 2-story frame hotel, leased by George M. Lacy in 1859 — an eating house for passengers on the State-owned railway until June 9, 1864, at which time the Federal forces occupied Big Shanty.
April 12, 1862, the Andrews Raiders [US] seized the locomotive "General" while train crew & passengers were breakfasting at the hotel.
Fortified by a stockade, it housed a Federal garrison from June 9 to Oct. 3, 1864, when it was recaptured by Confederate forces. Reoccupied by Federal troops it was maintained as a R.R. blockhouse until abandoned & burned by them, Nov. 14.
Tips for Finding This Marker: On GA 293 in downtown Kennesaw
---
Exploring the Topic
Lacy Hotel
Research paper by Vicki Ives, Dr. Jennifer Dickey's Introduction to Public History course, Kennesaw State University