Year Erected: 1992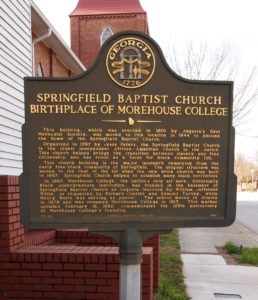 Marker Text:  This building, which was erected in 1801 by Augusta`s first Methodist Society, was moved to this location in 1844 to become the home of the Springfield Baptist Church.
Organized in 1787 by Jesse Peters, the Springfield Baptist Church is the oldest independent African-American Church in the nation. This church helped bridge the transition between slavery and free citizenship and has stood as a focus for black community life.
This church building is the major landmark remaining from the early free-black community of Springfield. The original structure was moved to the rear of the lot when the new brick church was built in 1897. Springfield Church helped to establish many black institutions.
In 1867, Morehouse College, the nation`s only all-male, historically black undergraduate institution, was founded in the basement of Springfield Baptist Church as Augusta Institute by William Jefferson White as requested by Richard Coulter and Edmund Turney, while Henry Watts was serving as pastor. The school moved to Atlanta in 1879 and was renamed Morehouse College in 1913. This marker unveiled February 16, 1992, commemorates the 125th anniversary of Morehouse College`s founding.
Tips for Finding This Marker: On Reynolds Street, on the right when traveling east in Augusta.