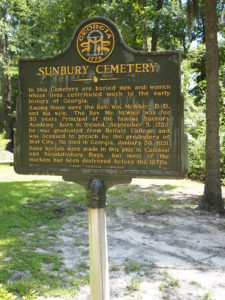 Year Erected: 1957
Marker Text: In this cemetery are buried men and women whose lives contributed much to the early history of Georgia.
Among these were the Rev. Wm. McWhir, D.D., and his wife. The Rev. Mr. McWhir was for 30 years the Principal of the famous Sunbury Academy. Born in Ireland, September 9, 1759 he was graduated from Belfast College and was licensed to preach by the presbytery of that City. He died in Georgia, January 30, 1851.
Some burials were made in this plot in Colonial and Revolutionary Days, but most of the markers had been destroyed before the 1870s.
Tips for Finding This Marker: On Dutchman's Cove Road in Sunbury