Year Erected: 2019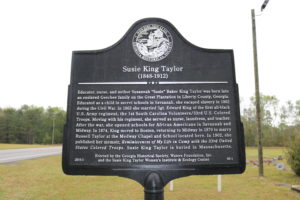 Marker Text: Educator, nurse, and author Susannah "Susie" Baker King Taylor was born into an enslaved Geechee family on the Grest Plantation in Liberty County, Georgia.  Educated as a child in secret schools in Savannah, she escaped slavery in 1862 during the Civil War.  In 1863 she married Sgt. Edward King of the first all-black U.S. Army regiment, she served as nurse, laundress, and teacher.  After the war, she opened schools for African Americans in Savannah and Midway.  In 1874, King moved to Boston, returning to Midway in 1879 to marry Russell Taylor at the Medway Chapel and School located here.  In 1902, she published her memoir, Reminiscences of My Life in Camp with the 33rd United States Colored Troops.  Susie King Taylor is buried in Massachusetts.
Erected by the Georgia Historical Society, Waters Foundation, Inc., and the Susie King Taylor Women's Institute & Ecology Center.
Tips for Finding This Marker: Located in the Midway First Presbyterian Church cemetery.