Year Erected: 2011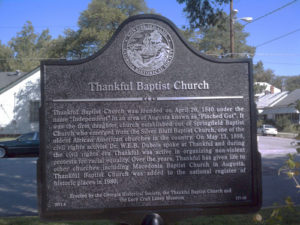 Marker Text:  Thankful Baptist Church was founded on April 26, 1840 under the name "Independent" in an area of Augusta known as "Pinched Gut". It was the first daughter church established out of Springfield Baptist Church who emerged from the Silver Bluff Baptist Church, one of the oldest African American churches in the country. On May 13, 1898, civil rights activist Dr. W.E.B. Dubois spoke at Thankful and during the civil rights era Thankful was active in organizing non-violent protests for racial equality. Over the years, Thankful has given life to other churches including Macedonia Baptist Church in Augusta. Thankful Baptist Church was added to the national register of historic places in 1980.
Erected by the Georgia Historical Society, Thankful Baptist Church, and Lucy Craft Laney Museum in 2011.
Tips for Finding This Marker:  At the intersection of 3rd and Walker Streets in Augusta.