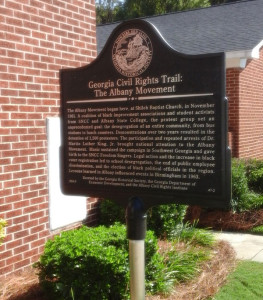 Year Erected: 2014
Marker Text: The Albany Movement began here, at Shiloh Baptist Church, in November 1961. A coalition of black improvement associations and student activists from SNCC and Albany State College, the protest group set an unprecedented goal: the desegregation of an entire community, from bus stations to lunch counters. Demonstrations over two years resulted in the detention of 1,500 protesters. The participation and repeated arrests of Dr. Martin Luther King, Jr. brought national attention to the Albany Movement. Music sustained the campaign in Southwest Georgia and gave birth to the SNCC Freedom Singers. Legal action and the increase in black voter registration led to school desegregation, the end of public employee discrimination, and the election of black political officials in the region. Lessons learned in Albany influenced events in Birmingham in 1963.
Erected by the Georgia Historical Society, the Georgia Department of Economic Development, and the Albany Civil Rights Institute
This marker is part of the Civil Rights Trail, a new, statewide public education initiative commemorating the 50th anniversary of the Civil Rights Movement in Georgia.
Tips for Finding This Site: 325 Whitney Ave, Albany, Georgia