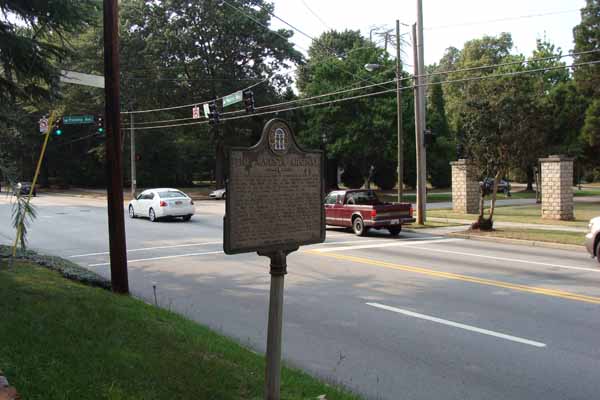 Year Erected: 1956
Marker Text: For a period of 128 years until its abandonment in 1955, a United States Arsenal was located on a tract comprising approximately 70 acres lying South and West of this spot. An "arsenal at Augusta" to aid the state in "resisting invasion" was originally provided for by President George Washington in 1793.
In 1816 a U.S. Arsenal was established on the Savannah River where the King Mill is now located, but the garrison having been wiped out in 1819 by "black fever," it was removed to this site in 1827 and consisted of two magnificent sets of officers quarters, an enlisted men`s barracks and a storehouse building connected by a loopholed wall. Expanding activities to meet the requirements of the Army in subsequent wars increased the number of buildings to a total of 101 at the end of World War II.
On January 24, 1861, it was surrendered to Georgia troops with its garrison of 80 men commanded by Captain Arnold Elzey, and during the War Between the States it manufactured a variety of ordnance for the Confederate Army.
Tips for Finding This Marker: At the intersection of Fleming Avenue and Walton Way in Augusta