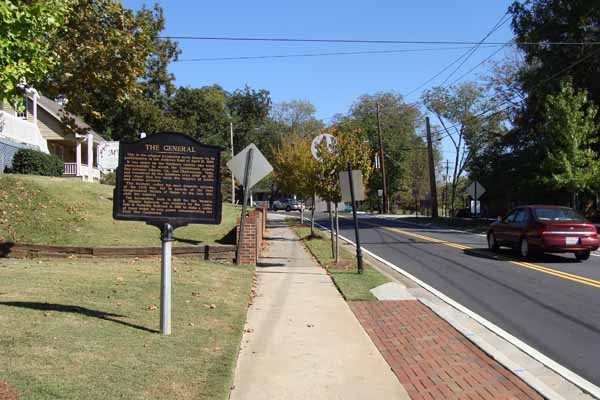 Marker Text: This is the original locomotive made famous by its participation in the Andrews Raid of April 12, 1862.
It was stolen by the Northern raiders who tried unsuccessfully to wreck the Confederate supply line between Atlanta, Ga., and Chattanooga, Tenn., and recovered by the Southern crew after an 86-mile chase that has been the subject of books and motion pictures.
This incident, called the most dramatic episode of the Civil War, led to awards of the first Congressional Medals of Honor to the men who stole the General.
The locomotive, built in 1855 for the Western & Atlantic Railroad, was restored by the Louisville & Nashville Railroad in 1961 to make a series of tours under its own power commemorating the Civil War Centennial.
Tips for Finding This Marker: At Southern Museum of Civil War and Locomotive History in Kennesaw