Year Erected: 2016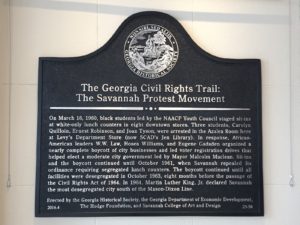 Marker Text: On March 16, 1960, black students led by the NAACP Youth Council staged sit-ins at white-only lunch counters in eight downtown stores. Three students, Carolyn Quilloin, Ernest Robinson, and Joan Tyson, were arrested in the Azalea Room here at Levy's Department Store (now SCAD's Jen Library). In response, African-American leaders W.W. Law, Hosea Williams, and Eugene Gadsden organized a nearly complete boycott of city businesses and led voter registration drives that helped elect a moderate city government led by Mayor Malcolm Maclean. Sit-ins and the boycott continued until October 1961, when Savannah repealed its ordinance requiring segregated lunch counters. The boycott continued until all facilities were desegregated in October 1963, eight months before the passage of the Civil Rights Act of 1964. In 1964, Martin Luther King, Jr. declared Savannah the most desegregated city south of the Mason-Dixon Line.
Erected by the Georgia Historical Society, the Georgia Department of Economic Development, The Hodge Foundation, and Savannah College of Art and Design
Tips for Finding this Marker: On the SCAD Jen Library Building near main entrance at the intersection of Abercorn and Broughton St.