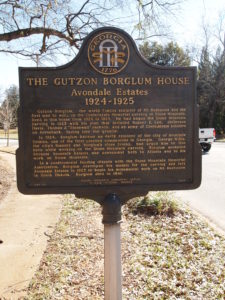 Year Erected: 1983
Marker Text:  Gutzon Borglum, the world famous sculptor of Mt. Rushmore and the first man to work on the Confederate Memorial carving on Stone Mountain, lived in this house from 1924 to 1925. He had begun the Stone Mountain carving in 1923 with his plan that included Robert E. Lee, Jefferson Davis, Thomas J. "Stonewall" Jackson, and an army of Confederate soldiers on horseback, fading into the granite.
In 1924, Borglum becam an early resident of the city of Avondale Estates, one of the first planned communities in Georgia. George Willis, the city's founder and Borglum's close friend, had urged him to live here while working on the Stone Mountain carving. Borglum accepted because Avondale Estates was convenient both to Atlanta and to his work on Stone Mountain.
In a controversial funding dispute with the Stone Mountain Memorial Association, Borglum destroyed his models for the carving and left Avondale Estates in 1925 to begin his monument work on Mt. Rushmore in South Dakota. Borglum died in 1941.
Tips for Finding This Marker: Northeast of Berkeley and Kensington Roads intersection in Avondale.