Year Erected: 2019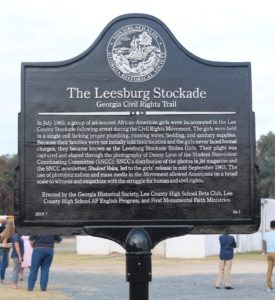 Marker Text: In July 1963, a group of adolescent African-American girls were incarcerated in the Lee County Stockade following arrest during the Civil Rights Movement. The girls were held in a single cell lacking proper plumbing, running water, bedding, and sanitary supplies. Because their families were not initially told their location and the girls never faced formal charges, they became known as the Leesburg Stockade Stolen Girls. Their plight was captured and shared through the photography of Danny Lyon of the Student Nonviolent Coordinating Committee (SNCC). SNCC's distribution of the photos in Jet magazine and the SNCC newsletter, Student Voice, led to the girls' release in mid-September 1963. The use of photojournalism and mass media in the Movement allowed Americans on a broad scale to witness and empathize with the struggle for human and civil rights.
Erected by the Georgia Historical Society, Lee County High School Beta Club, Lee County High School AP English Program, and First Monumental Faith Ministries
Tips for Finding This Marker: Located in front of the Leesburg Stockade.