Year Erected: 1957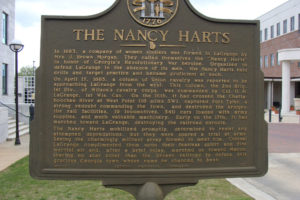 Marker Text: In 1863, a company of women soldiers was formed in LaGrange by Mrs. J. Brown Morgan. They called themselves the "Nancy Harts" in honor of Georgia`s Revolutionary War heroine. Organized to defend LaGrange in the absence of its men, the Nancy Harts held drills and target practice and became proficient at each.
On April 17, 1865, a column of Union cavalry was reported to be approaching LaGrange from the west. This column, the 2nd Brig., 1st Div., of Wilson's cavalry corps, was commanded by Col. O.H. LaGrange, 1st Wis. Cav. On the 16th, it had crossed the Chattahoochee River at West Point (18 miles SW), captured Fort Tyler, a strong redoubt commanding the town, and destroyed the bridges, the rail facilities, 19 locomotives, 340 cars loaded with army supplies, and much valuable machinery. Early on the 17th, it had marched toward LaGrange, destroying the railroad enroute.
The Nancy Harts mobilized promptly, determined to resist any attempted depredations, but they were spared a trial at arms. Seeing the charmingly militant array formed to meet him, Colonel LaGrange complimented them upon their fearless spirit and fine martial air and, after a brief delay, marched on toward Macon, leaving no scar other than the broken railroad to deface this gracious Georgia town whose name he chanced to bear.
Tips for Finding This Marker: At the courthouse in LaGrange.