Year Erected: 1956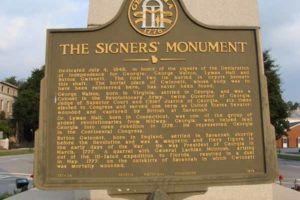 Marker Text: Dedicated July 4, 1848, in honor of the signers of the Declaration of Independence for Georgia: George Walton, Lyman Hall and Button Gwinnett. The first two lie buried in crypts beneath this shaft. The burial place of Gwinnett, whose body was to have been reinterred here, has never been found.
George Walton, born in Virginia, settled in Georgia, and was a colonel in the Revolutionary Army, twice governor of Georgia, Judge of Superior Court and Chief Justice of Georgia, six times elected to Congress and served one term as United States Senator; wounded and captured by British at Savannah.
Dr. Lyman Hall, born in Connecticut, was one of the group of ardent revolutionaries from Midway, Georgia, who helped lead Georgia into open rebellion in 1776. He represented Georgia in the Continental Congress.
Button Gwinnett, born in England, settled in Savannah shortly before the Revolution and was a magnetic and fiery figure in the early days of the war. He was president of Georgia in March 1777. A quarrel with General Lachlan McIntosh, arising out of the ill-fated expedition to Florida, resulted in a duel in May 1777, on the outskirts of Savannah in which Gwinnett was mortally wounded.
Tips for Finding This Marker: On Greene Street in Augusta