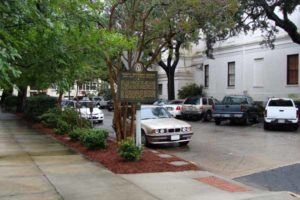 Year Erected: 1958
Marker Text: Trinity Church is the oldest Methodist Church in a city whose intimate association with John Wesley and George Whitefield gives it a unique place in the history of Methodism.
The cornerstone of the building was laid February 14, 1848, in a ceremony presided over by the Reverend Alfred T. Mann, Pastor. The edifice, which was completed in 1850, is in the Corinthian order of architecture and was designed by John B. Hogg of Savannah.
Prior to the erection of Trinity Church the Methodist congregation in Savannah worshipped in Wesley Chapel on South Broad Street. Among the great preachers of the Methodist Church whose names are associated with the Chapel are Francis Asbury, William Capers, John Howard, James C. Andrew, Ignatus Few, Elijah Sinclair and George F. Pierce. Through their faith and service others have lived more valiantly.
Tips for Finding This Marker: On Barnard Street in Savannah.