Year Erected: 2015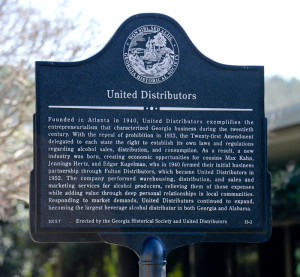 Marker text: Founded in Atlanta in 1940, United Distributors exemplifies the entrepreneurialism that characterized Georgia business during the twentieth century. With the repeal of prohibition in 1933, the Twenty-first Amendment delegated to each state the right to establish its own laws and regulations regarding alcohol sales, distribution, and consumption. As a result, a new industry was born, creating economic opportunities for cousins Max Kahn, Jennings Hertz, and Edgar Kugelman, who in 1940 formed their initial business partnership through Fulton Distributors, which became United Distributors in 1952. The company performed warehousing, distribution, and sales and marketing services for alcohol producers, relieving them of those expenses while adding value through deep personal relationships in local communities. Responding to market demands, United Distributors continued to expand, becoming the largest beverage alcohol distributor in both Georgia and Alabama.
Erected by the Georgia Historical Society and United Distributors
Tips for Finding This Marker: Located in front of the United Distributors building on United Drive in Smyrna.