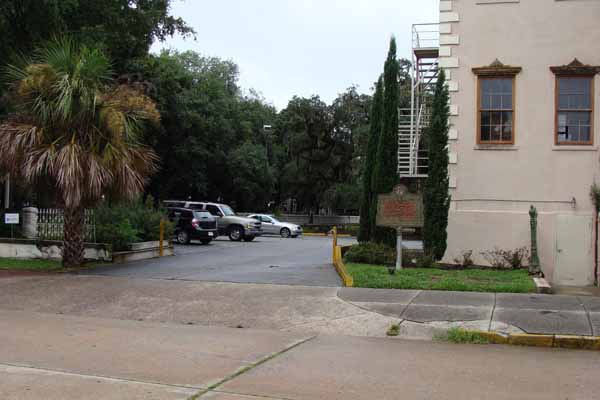 Year Erected: 1964
Marker Text: Georgia's first hospital, this institution is believed to be the second oldest general hospital in continuous operation in the United States. It was founded in 1803 as a seamen's hospital and poor house and was incorporated in 1808 under the name of Savannah Poor House and Hospital Society. The hospital was removed to this site in 1819.
In 1835 a new charter was obtained for the institution.
During the War Between the States a portion of the Hospital was used for the care of Confederate soldiers. In the area to the rear a stockade was erected in 1864, around the great oak that still stands there, for confinement of Union prisoners.
After Sherman's occupation of Savannah and until 1866 the building served as a Union hospital.
The name was changed in 1872 to Savannah Hospital. From 1871 to 1888 the Savannah Medical College was located here.
In 1876 the building was completely renovated. However, the structure of the 1819 building was retained and remains as the nucleus of the present hospital.
In 1931 the facilities were acquired by the Methodist Church, and the name changed to honor Bishop Warren A. Candler.
Tips for Finding This Marker: At the intersection of Huntingdon and Drayton Streets in Savannah