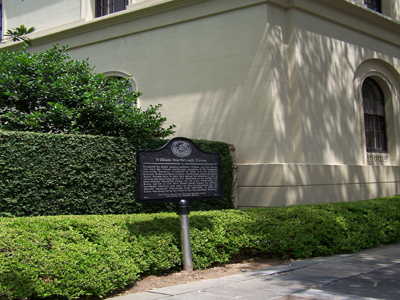 Year Erected: 2010
Marker Text: Designed by noted English architect William Jay, this house was built for William Scarbrough, president of the Savannah Steamship Company. Completed in 1819, it is an excellent example of the neoclassical style. Scarbrough hosted President James Monroe here in May 1819 during the president's visit to witness the launching of the S.S. Savannah on the world's first trans-Atlantic steamship voyage. For 84 years (1878-1962), the house served as the West Broad Street School for African-American children and later as the headquarters for the Historic Savannah Foundation from 1976-1991. In 1996 the house was acquired by the Ships of the Sea Maritime Museum.
Erected by the Georgia Historical Society and the Ships of the Sea Maritime Museum.
Tips for Finding This Marker: At 41 Martin Luther King Jr. Boulevard in Savannah.