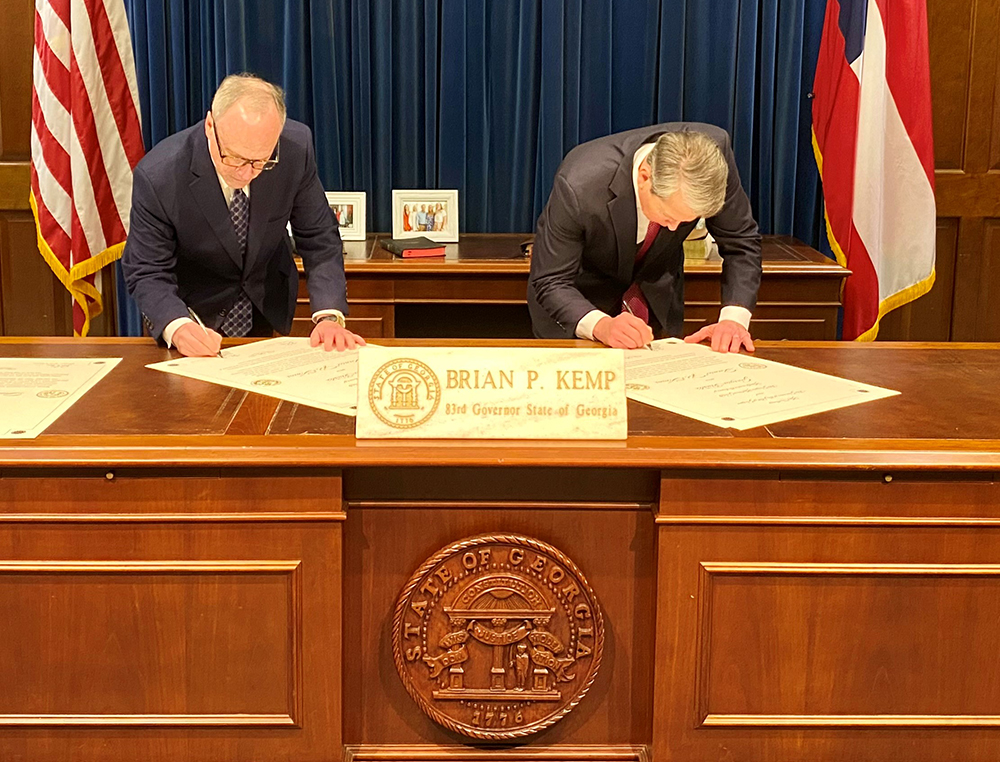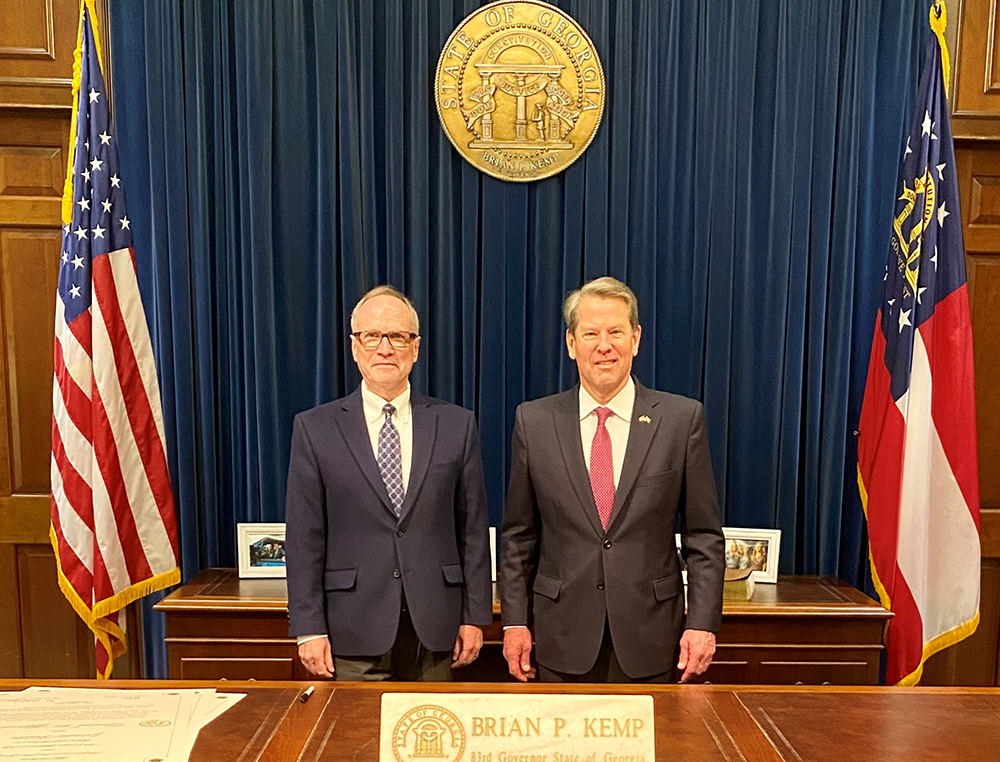 Atlanta, GA, February 16, 2023—In recognition of the 290th anniversary of the founding of the Georgia colony, the Honorable Brian Kemp, Governor of Georgia, and Dr. W. Todd Groce, President and CEO of the Georgia Historical Society, officially appointed Dan Amos and Donna Hyland as the 2023 Georgia Trustees in a signing ceremony at the Georgia State Capitol.
"It is my privilege to join Dr. Groce in appointing this year's additions to the Georgia Trustees, Dan Amos and Donna Hyland," said Governor Kemp. "They embody the commitment to service that the Trustees represent and promote so diligently. As the Georgia Historical Society continues to preserve the history of the Peach State, I am proud to join them in recognizing these two great community leaders for their accomplishments."
"It is my honor to be here with Governor Kemp as we appoint the 2023 Georgia Trustees, Dan Amos and Donna Hyland," said Dr. Groce. "Their lives and commitment to service reflect the motto of the original Trustees, the founders of Georgia, whose guiding principle was 'Not for Self, But for Others.' We look forward to celebrating Dan and Donna and the ideal they represent at their induction ceremony."
Amos and Hyland will be inducted as Georgia Trustees on April 22, 2023, at the Trustees Gala in Savannah.
In conjunction with the Governor's Office, the Georgia Historical Society reestablished the Georgia Trustees in 2008 as a way of recognizing Georgians whose accomplishments and community service reflect the highest ideals of the founding body of Trustees. The original Georgia Trustees, a governing body chartered and appointed by His Majesty King George II of England in 1732 to establish a new colony in North America, founded Georgia upon the principle of Non Sibi, Sed Aliis, "Not for Self, But for Others." The Governor annually appoints new Trustees whose history-making accomplishments and service reflect the original Trustees' ideals.
Dan Amos
Dan Amos became chief executive officer of Aflac Incorporated in 1990 and is the second longest-serving CEO in the Fortune 200 behind Warren Buffett. In January 2000, Dan launched the popular Aflac Duck advertising campaign, transforming Aflac from a successful supplemental insurance company to a top international brand recognized by Fortune magazine as one of the World's Most Admired Companies for 22 years. His commitment to ethical business practices has led the Ethisphere Institute to recognize Aflac Incorporated as a World's Most Ethical Company for seventeen consecutive years, making Aflac the only insurance company in the world to appear on this list every year since the inception of the award in 2007. Amos has also appeared five times on Institutional Investor magazine's lists of America's Best CEOs for the insurance category, and he has been recognized as one of the 100 Best-Performing CEOs in the World by the Harvard Business Review five times. His innovative leadership style has led to astounding annual revenue growth from $2.7 billion in 1990 to $19.5 billion in 2022.
In 1995, Dan and his wife, Kathelen, were inspired to spearhead Aflac's decades-long commitment to helping families of children diagnosed with cancer. The company and its independent sales associates have contributed more than $165 million to this cause, including funding for the Aflac Cancer and Blood Disorders Center of Children's Healthcare of Atlanta, which has become a leading childhood cancer facility in the United States by U.S. News and World Report. In Japan, through the Aflac Parents House, Aflac has also helped more than 140,000 children and their families who are facing cancer and other diseases.
Donna Hyland
For 32 years, Donna Hyland has helped shape the delivery of healthcare to children in Georgia and beyond. First as Chief Financial Officer, then Chief Operating Officer and now as President and Chief Executive Officer, Hyland has overseen monumental growth and achievement at Children's Healthcare of Atlanta. She was instrumental during the merger of Egleston Children's Health Care System and Scottish Rite Children's Medical Center, as well as the addition of Hughes Spalding and Marcus Autism Center, which led to the formation of what is now one of the largest pediatric healthcare systems in the country. Today, Children's is consistently ranked as a top pediatric hospital by U.S. News & World Report and one of Fortune magazine's "100 Best Companies to Work For."
Hyland's dedication to pediatric healthcare has resulted in recognition as one of Atlanta's and Georgia's most influential leaders.
Her dedication to the community extends outside of Children's, where she serves on the boards of Atlanta Committee for Progress Inc., Cousins Properties Incorporated, Genuine Parts Company, Metro Atlanta Chamber of Commerce Executive Committee, Truist Atlanta Advisory Board, Stone Mountain Industrial Park, Inc., and the Ryan Seacrest Foundation.
Previous Georgia Trustees
Previous inductees are Dan Cathy, Shirley Franklin, David Abney, Juanita Baranco, Robert L. Brown, Jr., Robert S. Jepson, Jr., Frank Blake, John Schuerholz, Edward H. Bastian, W. Paul Bowers, F. Duane Ackerman, A.D. "Pete" Correll, James H. Blanchard, Muhtar Kent, Alana Smith Shepherd, Paula S. Wallace, Arthur M. Blank, William Porter "Billy" Payne, Truett Cathy, Herman Russell, Tom Cousins, Andrew Young, Vincent J. Dooley, The Honorable Sam Nunn, Henry Aaron, Robert Edward "Ted" Turner, Bernard Marcus, and Marguerite Neel Williams.
For more information about the 2023 Georgia Trustees, please contact Keith Strigaro, Director of Communications, at kstrigaro@georgiahistory.com or by phone at 912.651.2125, ext. 153.
###
ABOUT THE GEORGIA HISTORICAL SOCIETY
Georgia Historical Society (GHS) is the premier independent statewide institution responsible for collecting, examining, and teaching Georgia history. GHS houses the oldest and most distinguished collection of materials related exclusively to Georgia history in the nation.
To learn more visit georgiahistory.com.