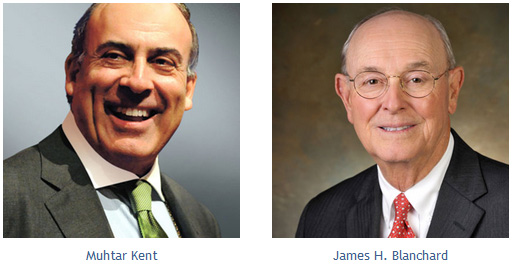 Atlanta, Ga., February 9, 2016 – In celebration of the 283rd Anniversary of the founding of Georgia, Governor Nathan Deal and the Georgia Historical Society will induct Muhtar Kent, Chairman of the Board and CEO of Coca-Cola, and James H. "Jimmy" Blanchard, retired Chairman and CEO of Synovus, as the newest Georgia Trustees.  The induction will take place this Saturday, February 13, at the annual Trustees Gala in Savannah.
"We are honored to induct two modern-day Georgian's whose lives and accomplishments embody  the motto of the original Georgia Trustees "Non Sibi Sed Aliis" – Not for Self but for Others," said Dr. W. Todd Groce, President and CEO of the Georgia Historical Society.  "In selecting Muhtar Kent and James Blanchard we are truly honoring two Georgians who have, through philanthropy and business leadership, made our world a better place."
In conjunction with the office of the Governor, the Georgia Historical Society reestablished the Georgia Trustees in 2008 as a way of recognizing Georgians whose accomplishments and community service reflect the highest ideals of the original Trustees, a governing body chartered and appointed by His Majesty King George II of England in 1732 to establish a new colony in North America.   The modern-day Trustees are appointed annually by the Governor and it is the highest honor the state can confer.
The 2016 Trustees Gala "Dare to Dream" is the Georgia Historical Society's premiere annual event and the culmination of the Georgia History Festival. Each year, this elegant and much-anticipated evening draws top local, state, and national leaders to honor and pay tribute to the best the State of Georgia has produced.
Previous inductees are Bernard Marcus, Ted Turner, Hank Aaron, The Honorable Sam Nunn, Vincent J. Dooley, Andrew Young, Tom Cousins, Herman Russell, Truett Cathy, Billy Payne, Arthur Blank, Paula Wallace, Alana Smith Shepherd, and Marguerite Neel Williams, who was honored posthumously.
###
2016 History Festival Sponsors