FOR IMMEDIATE RELEASE
Contact: Patricia Meagher, Director of Communications
912.651.2125, ext. 153 or pmeagher@georgiahistory.com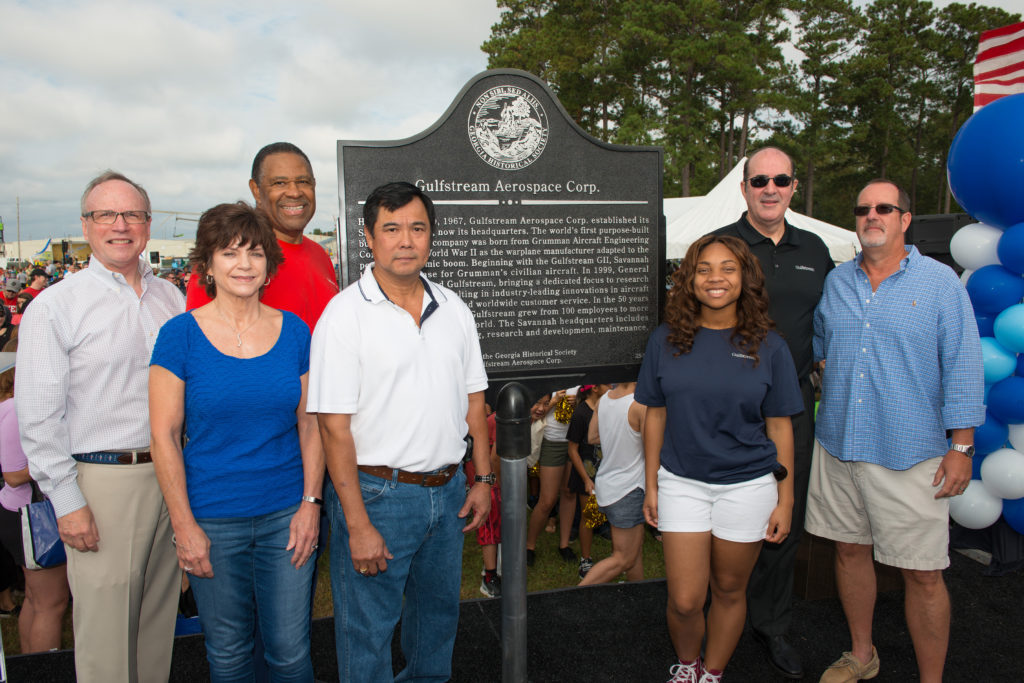 From left to right, back row: W. Todd Groce, president and CEO, Georgia Historical Society; Al Wright, Public Affairs and Community Investment consultant, Gulfstream; Mark Burns, president, Gulfstream. Front row: Karen Blough, senior Materials offsite administrator, Gulfstream; Thanh Le, hydraulic fabricator, Gulfstream; Tiaras Polite, youth apprentice, Employee Communications, Gulfstream; and Dwayne Johnson, Materials lead – Production, Gulfstream.
NEW HISTORICAL MARKER UNVEILED AT 50TH ANNIVERSARY CELEBRATION IN SAVANNAH
Savannah, Ga., October 20, 2017 – The Georgia Historical Society was pleased to add Gulfstream Aerospace Corp. to the Georgia Business History Initiative with the unveiling of a new historical marker at the corporate headquarters in Savannah. Each year, this Georgia Historical Society program recognizes iconic companies in the state to teach Georgia students, citizens, and tourists alike about the pivotal role of the state's leading businesses in the economic, cultural, and social development of Georgia and the United States.
Speakers for the dedication included Mark Burns, President, Gulfstream; Al Wright, Public Affairs and Community Investment Consultant at Gulfstream; and Dr. W. Todd Groce, President and CEO of the Georgia Historical Society.
"Today, we recognize the achievements and leadership provided by Gulfstream as an integral part of Georgia's business history. We also recognize the importance of you—the people who built Gulfstream—in creating that legacy," said Groce. "The history of Gulfstream is a story of innovation and perseverance and is a key part of our state's rich and diverse history."
"Your dedication to our company and to the Gulfstream family of aircraft is what sets us apart," Burns said to the employees, retirees and their families who attended the unveiling. "Thank you for your loyalty to Gulfstream and helping us develop and build the products, services, and experiences that make traveling in a Gulfstream aircraft second to none. We can't create and deliver the finest aviation experience without you. Congratulations and thank you for your service in the past and in the future."
The marker text was read by Karen Blough, Senior Materials Offsite Administrator, and unveiled by Tiaras Polite, a youth apprentice in the Employee Communications Group; Dwayne Johnson, Materials Lead—Production; and Thanh Le, a Hydraulic Fabricator.
The Historical Marker reads:
Gulfstream Aerospace Corp.
Here, on Sept. 29, 1967, Gulfstream Aerospace Corp. established its Savannah facility, now its headquarters. The world's first purpose-built business aircraft company was born from Grumman Aircraft Engineering Company after World War II as the warplane manufacturer adapted to the post-war economic boom. Beginning with the Gulfstream GII, Savannah became the base for Grumman's civilian aircraft. In 1999, General Dynamics acquired Gulfstream, bringing a dedicated focus to research and development resulting in industry-leading innovations in aircraft safety and technology and worldwide customer service. In the 50 years since relocating in 1967, Gulfstream grew from 100 employees to more than 15,000 around the world. The Savannah headquarters includes facilities for manufacturing, research and development, maintenance, sales, and support.
Erected by the Georgia Historical Society and Gulfstream Aerospace Corp.
###
ABOUT GEORGIA HISTORICAL SOCIETY
Georgia Historical Society (GHS) is the premier independent statewide institution responsible for collecting, examining, and teaching Georgia history. GHS houses the oldest and most distinguished collection of materials related exclusively to Georgia history in the nation.
To learn more visit georgiahistory.com.
ABOUT THE GEORGIA BUSINESS HISTORY INITIATIVE
Each year the Georgia Historical Society recognizes iconic companies in our state through the Georgia Business History Initiative. By showcasing these companies, GHS seeks to teach Georgia students, citizens, and tourists alike about the pivotal role of Georgia's leading businesses in the economic, cultural, and social development of Georgia and the United States.
Honorees receive a historical marker that tells the story of that company's contribution to the development of our state and nation. This executive summary of the company history is erected at a site of historical significance to the company and is also available online through the award-winning GHS Historical Marker website and mobile app.
ABOUT THE GEORGIA HISTORICAL MARKER PROGRAM
The Georgia Historical Society (GHS) administers Georgia's historical marker program. Over the past 20 years, GHS has erected over 250 new historical markers across the state on a wide variety of subjects. GHS also maintains the more than 2,100 markers installed by the State of Georgia prior to 1998. Online mapping tools allow users to design driving routes based on historical markers, and a mobile app helps visitors locate and learn about markers nearby.Visit georgiahistory.com for more ways to use Georgia's historical markers and experience history where it happened.