There are roughly 400 miles that separate the Mississippi Delta from Atlanta, Georgia, but for David Abney, it was a journey spanning five decades, eight cities, a competitive nature, and a deep desire to do better that propelled him up the ladder from loading trucks at age 19 to being the CEO and Executive Chairman of the Board at United Parcel Service (UPS). Now retired, Abney is looking forward to many things, among them being inducted as a 2021 Georgia Trustee.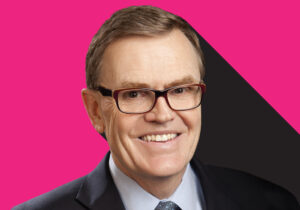 "I've always been a student of history," said Abney. "In fact, I wanted to be a history teacher before I started working for UPS so it's an honor to be selected by the Governor and the Georgia Historical Society to be a Georgia Trustee."
Growing up first in Cleveland, MS and then Greenwood in the heart of the Mississippi Delta, David learned about hard work from his first mentor, his father Tom, who ran a gas station before becoming an insurance salesman. "He wasn't successful in a commercial sense, but he taught me a lot," adds Abney. "He had a really strong work ethic and was one of those guys who could do anything – replace a car engine and things like that. He tried to teach me how but I didn't have the aptitude for it. I remember once when I was about twelve, he told me, 'Son, you're going to have to make a lot of money because you're going to be paying people to do things for the rest of your life,'" Abney adds with a laugh.
On his own philosophy on life and business, the things he calls his core values that have driven him over the years evolved and changed as he matured. "You start to realize there are higher goals and a bigger purpose," he states. "I'm a very competitive person, but I want everyone to succeed, not just me."
Growing up, Abney was driven by a feeling that there was something beyond the life that previous generations of his family had carved out in their small Mississippi towns. He enrolled at Delta State University on a scholarship that covered half of his tuition with the goal of becoming a history teacher and soon after began working nights loading trucks at UPS to help pay for school. One night during his shift a conversation with his manager, Ken Nester, would change the trajectory of his life from history teacher to "Brown-Blooded UPS-lifer," laughs Abney. "He saw something in me and encouraged me to consider a different course with UPS. Other than my parents no one had ever told me I could do big things."
By age 21, Abney and his wife Sherry, whom he met in college and refers to as the CEO of their family, were living in Pascagoula where he was driving for UPS. A year later, he was in management as head driver, with Nester continuing as his mentor and boss. "He drove me to be better, and not to coast—it was my job to support the team, the people doing the work, and that's what I did."
Abney recalls a time when there was not enough work for the nine drivers on his team. "So I laid myself off for those days and gave the work to the other drivers. Sherry and I were newlyweds living week-to-week, but it was important to do it to unite the team." In the long run it was that kind of leadership that UPS recognized and that propelled him up the ladder.
Another mentor was Calvin "Cal" Darden, now the retired senior vice-president of U.S. operations at UPS. "He taught me there was a gentler way to get things done and still hold people accountable without losing your cool."
Philanthropy is another topic that is very dear to Abney. He and his wife Sherry established The International Business Symposium at Delta State University. Now in its sixteenth year, The Symposium provides a unique opportunity for DSU students and Mississippi residents to gain insights from and interact with some of the most successful business leaders in the country. "It's important to expose them to these leaders and to tell them that it's not important what your past is. What is important is what you do in the present and dream for in the future. Don't listen to people who tell you that you can't, surround yourself with the people who tell you that you can."
Abney is also dedicated to ensuring that the Symposium's lineup of speakers is as diverse as the student body. "Delta State is one of the most racially integrated colleges in Mississippi and many of the students are the first in their family to attend college and on some sort of financial aid," adds Abney. "We want them to see and hear speakers that come from similar backgrounds and achieved success so they can be inspired to achieve their own goals."
Diversity matters to Abney. Growing up in the Delta at the height of the Civil Rights Movement he recalls the events of the 1960s when James Meredith became the first African American to attend the University of Mississippi. Abney recalls the protests and the presence of the national guard in his school when he was seven years old. "I was told that there were 'troublemakers.' It wasn't until I was working for UPS where I had African-American bosses, coworkers, and people working for me—a truly integrated company in every sense of the word—that I learned then that 'Separate but Equal' was the biggest lie that I had ever been told. I like to say I got my business degree from Delta State but I got my masters in diversity from UPS because that environment forced me to acknowledge that much of what I had been taught growing up was a lie and made me determined not to carry any of that baggage with me. I separated myself from it so that I could lead a company like UPS."
In looking back over his five decades at UPS Abney takes pride in a leadership style that builds people up without tearing them down. He believes in helping his teams, whether large or small, to pull together toward a common goal and celebrate their victories together.
Abney is also deeply involved with Mississippi State (MSU) Athletics, where he currently serves as Chairman of the Bulldog Club. "My father was a fan and took me to games as a little bitty kid," Abney recalls fondly. The Thomas W. Abney Tutoring Laboratory, part of the Templeton Athletic Academic Center at MSU, now bears his father's name and serves the academic needs of student athletes.
Now in his retirement, Abney says he would not be the person that he is without UPS. He wants to be remembered by the people who worked with and for him at UPS as a humble servant leader. "I did everything I could to help each of them achieve their own greatness."
So, what does the future look like for Abney? He still runs and rides his Peloton and he's taking up golf again, mostly with his wife. He's collecting the memorabilia of Mississippi athletes and working to complete the coin collection his father began many years ago, among other things. First and foremost, he wants to spend more time with his family including his two children and seven grandchildren.
But his biggest commitment in retirement is the fulfillment of a promise he made to his grandchildren. "I promised I would read Harry Potter—all seven books. When I finish a book, we watch the movies and I buy them each a Harry Potter Lego. It's a big part of my life now."