She calls herself an introvert, but very few others who know Juanita Baranco would use that word to describe her. Executive, attorney, advocate, community activist, wife, mother, and leader are just a few of the words that can be used to describe her. On June 5, 2021, she will add Georgia Trustee to her already impressive resume when she is inducted by the Governor and the Georgia Historical Society alongside David Abney and receive the highest honor the State of Georgia can confer.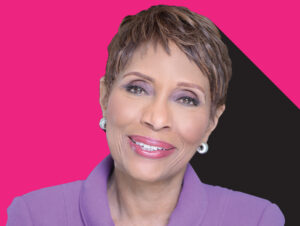 To know Juanita Baranco you must understand what drives her and has motivated her throughout her life to reach and accomplish what few can envision. The ideals of equity and justice frame the lessons she learned at a young age growing up in a strong family of grandparents, aunts, uncles, and most especially, her parents.
Juanita's mother, Evelyn Evans Powell, was a home economist by training and taught English, mathematics, and special education. Originally from Grenada, Mississippi, and only two generations removed from slavery, Evelyn was a pioneer in her own right who left home at age 13 armed with an eighth-grade education to put herself through high school in Greenville, Mississippi, and later through Clark College (now Clark Atlanta University).
Evelyn's parents, Albert and Lessie Evans, owned 400 acres of land, a significant amount for Mississippians of color at that time. Their pride as landowners and their frequent need to defend the land would figure prominently in developing Juanita's world view on the relationship between property ownership and freedom.
Juanita's father, Jerome Powell, was a budding young lawyer from Shreveport, Louisiana, the son of Mattie and Solomon E. "Sol" Powell, Sr. Sol was a prominent leader in Shreveport's Black community. He was the first African-American physician in the small southern city, in addition to his other business and real estate holdings.
Juanita was born in Washington, D.C., on March 19, 1949, the youngest of three children and the only girl. As college graduates, her parents impressed upon her the importance of a good education. When Juanita was four, the family moved to Shreveport to be near her paternal grandparents and to assist with caring for Grandfather Sol.
She recalls those early years in Shreveport fondly. Her other early influencers, in addition to her parents and grandparents, were her teachers in her segregated Shreveport schools, beginning with Central Free Methodist School, where her love of learning, especially reading, took root.  "In kindergarten, Miss Herd would let us read until we got to a word we couldn't pronounce. I was a good reader, but one day there was a word I just did not know. I was almost in tears over this word, but, she encouraged me, saying, 'sound it out, you can do this,' and I did. The word was phenomenal, and I did it. It raised my confidence and because Ms. Herd took the time to build me up, to see the potential in me, I knew that I had everything in me that I needed to make it in life."
After Central Free, Baranco attended Notre Dame Catholic High School, where she was an exemplary student and Salutatorian of her graduating class. She graduated at sixteen at the height of the Civil Rights Movement and was heavily influenced by the writings of James Baldwin, Richard Wright, and Dick Gregory, whom she would later meet.
Much of her first two years at LSU were spent involved in the Movement, including the decision to attend the state school and not one of the many Historically Black Colleges and Universities (HBCU). "We weren't told, but we felt like it was our civic responsibility to continue to integrate these universities," she says. Baranco recalls that her parents sheltered her from much of the racism occurring around her in Shreveport. She recalls with fondness the five-hour car trips the family made to Mississippi to visit her maternal grandparents. "We always took a picnic lunch and if we had to use the restroom we stopped on the side of the road, never knowing that it was because we weren't allowed in the restaurants and restrooms along the way."
Baranco remembers April 4, 1968, the day Dr. Martin Luther King, Jr. was assassinated in Memphis. "We asked the administration at LSU to lower the flag to half-mast and they weren't going to do it. So several of us went to the parade grounds where the ROTC would parade, and we marched around that flagpole all day and all night for days. We would not leave until they lowered it and they finally did."
At LSU she met Greg Baranco, now her husband of 51 years. Greg was attending Southern University and A&M, also in Baton Rouge.  It was Greg who, while working as an intern for General Motors as part of GM's minority development program, had the epiphany that owning a dealership was the way to succeed in the automotive industry. Juanita agreed. The road to that first dealership was long and difficult. "But we were determined, and we made it work."
Eventually they realized their dream when they purchased Smith-Johnson Pontiac in East Point, Georgia. Juanita was pregnant with their third child and studying for the Georgia Bar, but was able to raise $25,000 that they combined with loans from General Motors.  On April 4, 1978, Baranco Pontiac, Inc., one of the first African-American owned car dealerships in metro Atlanta, became a reality.
In 1979, at the insistence of General Motors, they built a new state-of-the-art building in DeKalb County and moved the dealership. The country was in the early grips of a recession and the dealership fell on hard times. "We managed to get our people paid but it was becoming clear that I was going to need to find different employment to help make things work for our family so I applied and was hired by the Attorney General's office, first as an associate and eventually promoted to Assistant Attorney General, where I remained until 1983."
With the economy rebounding she left the Attorney General's office and returned to the dealership.  The Barancos acquired Baranco Lincoln Mercury in Duluth in 1985, then Acura of Tallahassee, Florida, in 1988, Baranco Acura dealership in Morrow in 1990, Mercedes Benz of Buckhead in 2003, and Mercedes Benz of Covington, in Covington, Louisiana in 2018. What started as one dealership with a few employees grew to four dealerships representing five brands with over 360 employees and $160 million in sales.
Juanita Baranco never forgot the lessons of her youth and the importance of education.  She has served as chairman of the DeKalb County Education Task Force, as a member of the Georgia State Board of Education, appointed by Governor Joe Frank Harris. Governor Zell Miller appointed her to the Board of Regents of the University System of Georgia, where she became the first African-American woman to chair that august body. She also served on the Board of Trustees of Clark Atlanta University, her mother's alma mater, for 20 years, including ten years as board chair.
Her brother, Jerome Powell II, also had a tremendous impact. "My brother was born with Down syndrome, and we all cared for him but especially my mother. She earned an advanced degree from Grambling University just so she could teach special education." For Juanita, Jerome was one of the great motivators in her work to ensure a quality education for all children, regardless of need.
She has been recognized with numerous honors and awards including recognition by the Dow Jones Company for entrepreneurial excellence; the first Trumpet Award from Turner Broadcasting System for entrepreneurial excellence; Entrepreneur of the Year by the Atlanta Business League; the DECCA Award from the Atlanta Business Chronicle; the YWCA's Women of Achievement Award; and most recently the Blanchard Award for Outstanding Stewardship and Ethics in Business.  What about the future? She pauses, laughs, and says, "I guess I'm going to have to retire at some point. I'll probably do more reading, and I'd like to learn to play the guitar, but mostly I want to spend more time with my family, especially our seven grandchildren."
There are many ways to describe Juanita Baranco, a woman who has broken race and gender barriers, who not only stands up for what she believes in but is also not afraid to fight for it.  Through her hard work, community service, and determination, she has lived a life in pursuit of the highest ideals and exemplifies the spirit of the original Georgia Trustees and their motto "Not for self, but for others."