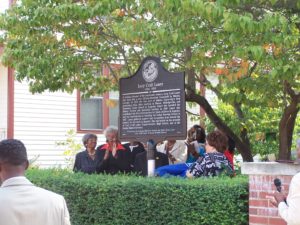 This week's #MarkerMonday highlights Augusta educator, Lucy Craft Laney. Laney was born April 13, 1854, in Macon, Georgia, to the formerly enslaved David and Louisa Laney.  Mr. Laney purchased his freedom for himself and his wife nearly twenty years prior to Lucy Laney's birth. Lucy loved education from an early age and learned to read by the age of four. In 1869, Laney attended Atlanta University and was part of the first graduating class in 1873. After holding teaching positions in various cities throughout Georgia, Laney settled in Augusta. With encouragement from the Christ Presbyterian Church in Augusta, she opened the first school for .
By the time the first class graduated in 1885, the school had 234 students. A proponent of education for all ages, Laney established Augusta's first kindergarten for African-American children and aided in the establishment of the Lamar School of Nursing for African-American women. In 1918, Laney helped to found the Augusta chapter of the National Association for the Advancement of Colored People (NAACP). Laney died in October 1933 and is buried on the grounds of former Haines Institute. While she received several honors and awards in her life time, Laney was honored posthumously by Georgia Governor and future President Jimmy Carter with a portrait in the state Capitol Building in 1974. Laney was also inducted into Georgia Women of Achievement in 1992.
Top Image of kindergarten class at Haines Normal and Industrial Institute. Courtesy of the Library of Congress, Prints and Photographs Division, LC-USZ62-115956.
---
Explore the links below to learn more about Lucy Craft Laney and her role as a leading educator in Georgia.
Haines Normal and Industrial Institute Historical Marker
The Lucy Craft Laney Museum of Black History: About Ms. Laney