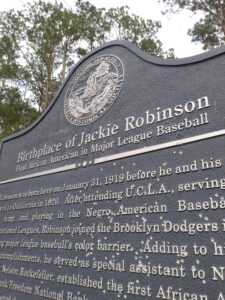 Atlanta, Georgia, August 27, 2021 – The Georgia Historical Society (GHS) has announced that Major League Baseball Charities will sponsor the replacement of the "Birthplace of Jackie Robinson" historical marker in South Georgia that was vandalized by gunfire earlier this year. MLB Charities has also made a gift to GHS to establish The Jackie Robinson Fund, an endowment to provide perpetual care and protection for the historical marker.
"GHS is deeply grateful to Commissioner Rob Manfred for supporting our teaching mission through the replacement and endowment of the Birthplace of Jackie Robinson historical marker," said Dr. W. Todd Groce, President and CEO of the Georgia Historical Society. "Jackie Robinson's legacy as a leader both on and off the diamond makes him one of Georgia's most famous native sons and a source of great pride for all Americans."
The Birthplace of Jackie Robinson historical marker was erected in 2001 in Grady County, Georgia, by GHS and the Jackie Robinson Cairo Memorial Institute, Inc. It is part of the Georgia Historical Society's Civil Rights Trail, an initiative that focuses broadly on the economic, social, political, and cultural history of the Civil Rights Movement. In February 2021, it was reported to police that the historical marker was badly damaged by vandals, who riddled it with multiple discharges from various firearms.
The new historical marker will replace the badly damaged original and will be re-dedicated at a later date. In addition to the marker at the Jackie Robinson birthplace site, GHS will also install a duplicate marker in front of the Roddenberry Library in downtown Cairo to bring broader attention to the birthplace, which is thirteen miles away.
The Jackie Robinson Fund creates a permanent endowment that will be used for ongoing maintenance and perpetual care of the marker. Others wishing to contribute to The Fund can do so by contacting the Georgia Historical Society.
"Our goal is to ensure that everyone who visits South Georgia can learn about the life and legacy of Jackie Robinson," added Groce. "As the first African American to break modern-day Major League Baseball's color barrier in 1947, Robinson's talent on the field and his dedication to Civil Rights should never be forgotten."
For more information about the Georgia Civil Rights Trail, The Birthplace of Jackie Robinson historical marker, or The Jackie Robinson Fund at the Georgia Historical Society, please contact Patricia Meagher, GHS Director of Communications, at pmeagher@georgiahistory.com or 912.651.2125, ext. 153.
###
ABOUT THE GEORGIA HISTORICAL SOCIETY
Georgia Historical Society (GHS) is the premier independent statewide institution responsible for collecting, examining, and teaching Georgia history. GHS houses the oldest and most distinguished collection of materials related exclusively to Georgia history in the nation.
To learn more visit georgiahistory.com.
---
ABOUT THE GEORGIA HISTORICAL MARKER PROGRAM
The Georgia Historical Society (GHS) administers Georgia's historical marker program. Over the past 20 years, GHS has erected nearly 300 new historical markers across the state on a wide variety of subjects. GHS also coordinates the maintenance for more than 2,100 markers installed by the State of Georgia prior to 1998. Online mapping tools allow users to design driving routes based on historical markers, and a mobile app helps visitors locate and learn about markers nearby. Visit georgiahistory.com for more ways to use Georgia's historical markers and experience history where it happened.