For the month of June, #MarkerMonday will be exploring sports and recreational history in Georgia. Prepare for a summer of fun and leisure as we delve into the history behind sporting venues and events and famous Georgian athletes.
---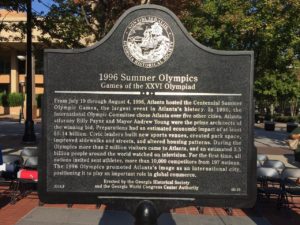 This week's #MarkerMonday shines a light on the 1996 Centennial Summer Olympics hosted in Atlanta, Georgia. In 1990, the International Olympic Committee (IOC) chose Atlanta for the site of the centennial Olympics over five other cities. Atlanta attorney Billy Payne and Mayor Andrew Young were the architects behind the city's winning bid for the Centennial Summer Olympic Games. From July 19 to August 4, athletes from all 197 IOC member nations competed in 271 events.
The Games began with the lighting of the Olympic Flame by boxer Muhammad Ali, and debuted beach volleyball, mountain bike racing, lightweight rowing, women's soccer, and softball as Olympic sports. The Atlanta Games faced criticism for being over commercialized and faced challenges with transportation and housing. On July 27, tragedy struck the Olympic Games when a pipe bomb went off in Centennial Park killing one person and injuring more than 100 others. Despite criticism and misfortune, the Games continued and saw many Olympic firsts and memorable sports moments. Austrian sailor Hubert Raudaschl became the first person ever to compete in nine Olympic Games. Similarly, American runner Michael Johnson, "The Man in the Golden Shoes," set world record times in the 200m and 400m, winning gold in both events. Americans may also especially recall Team USA's women's gymnastics team, "The Magnificent Seven," and the men's basketball team, "Dream Team II." Both teams would win gold in their events. More than 2 million visitors came to Atlanta for the 1996 Summer Games, and an estimated 3.5 billion people around the world watched on television.
Top Image taken from larger image of sporting event tickets to the 1996 Olympic Games. Courtesy of Ed Jackson.
---
Explore the links below to learn more about the 1996 Summer Olympic Games in Atlanta.
GHS is proud to house the Savannah Olympic Support Council records, 1991-1996 (SOSCO). SOSCO played a major role in the planning and staging of the Olympic sailing events that were held in Savannah, Georgia. GHS is also proud to house several pieces of memorabilia from the 1996 Olympic Games, can be referenced by searching GHS's Digital Images Catalog. Search "Olympics" and "1996."
AJC.com- Atlanta 1996 Olympics: How the venues look now (photo gallery)
AJC.com- New historic marker for 1996 Games unveiled in Centennial Olympic Park
Kerri Strug Vaults at Atlanta 1996 (video)
USA v Yugoslavia Men's Basketball Final Atlanta Olympics 1996 (video)
Michael Johnson Breaks 200m & 400m Olympic Records – Atlanta 1996 Olympics (video)
Further Reading
Bayne, Bijan C. "Olympics Flashback: 11 Key Moments of Atlanta 1996- Unforgettable moments from the first Games in the U.S. South." Paste Magazine, June 29, 2016. Accessed May 4, 2017. https://www.pastemagazine.com/articles/2016/06/bayne—96-atl.html.
Bertodano, Helena De. "Michael Johnson: 'For eight years I was a five-time gold medallist. Then it was four-time. It's not the same'" The Telegraph. July 09, 2012. Accessed May 16, 2017. http://www.telegraph.co.uk/sport/olympics/athletics/9378922/Michael-Johnson-For-eight-years-I-was-a-five-time-gold-medallist.-Then-it-was-four-time.-Its-not-the-same.html
Checker, Sam The Fact. "Team USA Basketball: What About the 1996 Dream Team II?" Bleacher Report. April 11, 2017. Accessed May 16, 2017. http://bleacherreport.com/articles/53558-team-usa-basketball-what-about-the-1996-dream-team-ii.
Meyers, Dvora. "What Really Happened Before and After Kerri Strug's Famous Vault." ELLE. October 14, 2016. Accessed May 16, 2017. http://www.elle.com/culture/a38123/oral-history-of-the-magnificent-seven/.