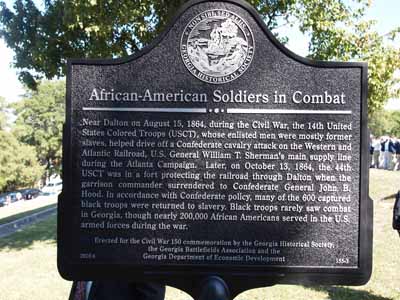 This week's #MarkerMonday highlights the African American Soldiers in Combat historical marker in commemoration of Black History Month. This marker, part of the Civil War Historical Marker Initiative, is located in Whitfield County and tells the story of the 14th and 44th United States Colored Troops (USCT). This initiative was created to tell some of the previously untold stories of the war's impact on civilians, politics, industry, the home front, African Americans, and women.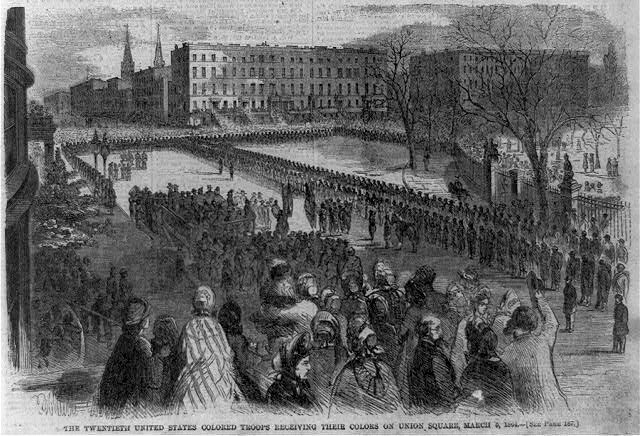 Around 180,000-200,000 African-American men, many of whom were formerly enslaved, enlisted in the United States Colored Troops regiments. The passage of the Militia Act in 1862 allowed African Americans to join the military but did not clear them for combatant positions or provide them with equal treatment. President Lincoln's decision to allow African Americans to enlist in the United States military was met with resistance by white US troops, but he later regarded the USCT as critical to the war effort. Due to mistrust and racism the USCT fought in few engagements during the Civil War, and rarely fought in Georgia.
The 14th USCT aided in preventing Confederate troops from interfering with General Sherman's main supply line, the Western and Atlantic Railroad, on August 15, 1864. Losing the supply line would have impacted the Atlanta Campaign, which ended with Atlanta's surrender to the U.S. Army on September 2, 1864. The 44th USCT was captured after the garrison commander surrendered the fort protecting the railroad in Dalton, Georgia. Most of the captured men were returned to slavery or became prisoners of war along with other African-American soldiers who were captured during the Civil War. Following the end of the war and their release, many of the former soldiers tried to hide their affiliation with the US Army to prevent retaliation from their white southern neighbors.
---
Explore the links below to learn more:
Civil War Historical Marker Initiative
American Battlefield Trust— The United States Colored Troops
New Georgia Encyclopedia—Black Troops in Civil War Georgia
History.com— Black Civil War Soldiers
The Twentieth United States colored troops receiving their colors on Union Square, March 5. New York United States, 1864. Photograph.