To further explore the 2017-2018 Georgia History Festival theme "A Legacy of Leadership," October's #MarkerMondays focus on Georgia governors and their leadership of our state. GHS is proud to house archival materials both about and from these leaders.
---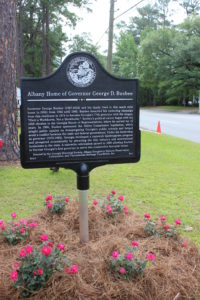 This week's #MarkerMonday highlights Governor George Busbee, the first Georgia governor to serve two consecutive (1975-1983). Busbee was born on August 7, 1927, in Vienna, Georgia. He attended Georgia Military College and Abraham Baldwin Agricultural College and served in the United States Navy during World War II. After his discharge, Busbee continued his education at the University of Georgia receiving a bachelor's degree in 1949 and a law degree in 1952. Upon receiving his law degree, Busbee and his wife settled in Albany, Georgia, and began his political career shortly after. He won a seat in the Georgia House of Representatives in 1956, where he served for 18 years. During his years in the House, Busbee often worked quietly, away from the spotlight. In 1974, he stood for election and became Georgia's 77th governor using the slogan, "Elect a Workhorse, Not a Showhorse," a nod to Busbee's work ethic.
Georgia established a statewide kindergarten program, completed the interstate highway system in the state, and invested over $100 million in the ports of Savannah and Brunswick. His administration placed a new emphasis on agribusiness and tourism. Similarly, Busbee worked to attract new industries to the state including the film industry and international business. Busbee also successfully attracted international banks, such as the Bank of Tokyo and Barclays Bank, to come to Georgia and lobbied for international airlines to come to Atlanta. In 1980, a referendum was passed to allow Busbee to become the first governor of Georgia to serve two consecutive four-year terms of office. After retiring from politics in 1983, Busbee relocated from Albany to Duluth, Georgia, and practiced law at King & Spalding. On July 16, 2004, Busbee passed away suddenly of a massive heart attack in Savannah, GA. He is buried in Peachtree Memorial Park Cemetery in Duluth.
---
Explore the links below to learn more about former Governor George D. Busbee and his political career.
GHS is proud to house Charles H. Prout's research materials on Georgia's Governors. This collection features biographical information and information regarding their administrations. It also contains a photograph of seven former Georgia Governors (Ernest Vandiver, Zell Miller, George Busbee, Carl Sanders, Jimmy Carter, Joe Frank Harris, and Herman Talmadge) in the State Capitol Building.
New Georgia Encyclopedia (George Busbee: 1927-2004)
National Governor's Association
Savannah Morning News, July 17, 2004 – "Former Governor Busbee dies"
Coleman, Zach. "Busbee blazed international trail for Atlanta." Atlanta Business Chronicle. Published November 23, 1998.
Find a Grave: George Dekle Busbee
Russel Library Oral History. "Carl Sanders and Norman Underwood on George Busbee, Reflections on Georgia Politics" Published April 18, 2012. (Youtube video)
Further Reading
James F. Cook, The Governors of Georgia, 1754-2004, 3d ed. (Macon, Ga.: Mercer University Press, 2005).
Harold P. Henderson and Gary L. Roberts, eds., Georgia Governors in an Age of Change: From Ellis Arnall to George Busbee (Athens: University of Georgia Press, 1988).