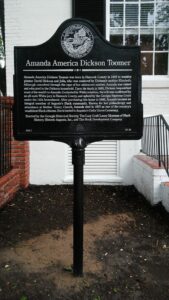 This week's #MarkerMonday highlights the Amanda America Dickson Toomer historical marker in Richmond County, the newest Georgia Historical Marker erected as an addition to the Georgia Civil Rights Trail. Amanda America Dickson Toomer was born on November 20, 1849, in Sparta, Georgia, out of an abuse of power common throughout the United States' history of slavery. Her father, David Dickson was a 41-year-old wealthy White planter, and her mother, Julia Lewis was an adolescent enslaved by Dickson's mother. Through her father's will Amanda Toomer became one of the wealthiest women of her time and used her privilege to support the nearby African-American communities.
Once Amanda America Dickson Toomer was old enough, she was separated from her mother so she could be raised in the main plantation house by the Dickson family. Under her grandmother, Elizabeth Dickson, Toomer learned to read, manage finances, play the piano, and how to act as a lady of southern society. Despite her family, Toomer was still looked down upon by society and was not able to freely utilize White schools or establishments.
When David Dickson died, newspapers reported a summary of his will and some called for the will to be shared with the public. Its contents noted distributions of his land holdings and wealth between nieces, nephews, grandchildren, and his daughter. The estate left to Toomer was estimated around $400,000—over $11million in today's money. White family members contested the will up to the Georgia Supreme Court on the grounds that Toomer was an illegitimate child. Even the McDuffie Weekly Journal (March 11, 1885) wrote, "Mr. Dickson was a widower without children," after discussing Amanda Toomer's share of the will. The Georgia Supreme Court upheld the intention of Mr. Dickson and his will, stating, "the rights of each race are controlled and governed by the same enactments on principles of law." Because of this ruling, the courts could not discriminate on the basis of race, and as a bi-racial women, Toomer had an equal claim to her inheritance.
---
Explore the links below to learn more:
Guest Blog Post – Amanda America Dickson Toomer
New Georgia Encyclopedia – Amanda America Dickson (1849-1893)
Encyclopedia Britannica – Amanda America Dickson
The Mercury. (Sandersville, Ga.) 1880-1???, March 10, 1885, Image 2
McDuffie Weekly Journal. (Thomson, McDuffie County, Ga.) 1871-1909, March 11, 1885, Image 2
The Mercury. (Sandersville, Ga.) 1880-1???, March 17, 1885, Image 2
Black Past – Amanda America Dickson Toomer (1849-1893)