In honor of Independence Day, during the month of July, #MarkerMonday will be exploring individuals and events related to the Revolutionary War in Georgia. Join GHS as we learn more about the role Georgia and her people played in the fight for independence.
---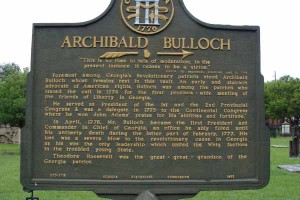 This week's #MarkerMonday highlights Archibald Bulloch, one of Georgia's notable Revolutionary patriots. Archibald Bulloch, born in 1730 in Charleston, South Carolina, began his political career in South Carolina where he practiced law and served as a lieutenant in the South Carolina militia. In 1758, the Bulloch family moved to Georgia, and Bulloch settled in Savannah in 1764. Bulloch resumed his political career in Georgia becoming a leader in the Liberty Party, a party that advocated for the rights of the American colonists following the British introduction of the Quartering Act in 1765 and later the Intolerable Acts.
In a decisive election Bulloch and six members of the Liberty Party were elected to the Commons House of Assembly in 1768. Bulloch attended a gathering at Tondee's Tavern in Savannah for the 1775 Provincial Congress of Georgia and was elected to serve as the body's president. The Provincial Congress, established in Georgia to oppose British authorities, also elected Bulloch to serve as a delegate to the Continental Congress in Philadelphia, which he did until early 1776 when he returned to Georgia to further aid revolutionary efforts. He served under Colonel Lachlan McIntosh at the Battle of the Rice Boats in March 1776. Later that same month, Bulloch led soldiers on a mission to destroy British facilities on Tybee Island. In June 1776, Bulloch became the first President and Commander in Chief of Georgia under the temporary Republican government in the new state. He passed away eight months later in February 1777, while Georgia prepared to defend itself from British invasion. While some have suspected that Bulloch was poisoned, the cause of his death remains unknown. He is buried in Colonial Park Cemetery in Savannah. Bulloch County was named in his honor in 1796.
Top Image taken from larger image of American flag. Public Domain.
---
Explore the links below to learn more about Archibald Bulloch and the Revolutionary War in Georgia.
New Georgia Encyclopedia (Archibald Bulloch)
New Georgia Encyclopedia (Revolutionary War in Georgia)
New Georgia Encyclopedia (Royal Georgia, 1752-1776)
Georgia Archives: Bulloch, Archibald, Appointment as President and Commander-in-Chief of the Colony of Georgia
National Archives: A Letter to John Adams from Archibald Bulloch, 1 May 1776
Biographical Directory of the United States Congress: Archibald Bulloch
Our Georgia History: Archibald Bulloch
Land of the Brave: Quartering Act
Encyclopedia Britannia: Intolerable Acts
Encyclopedia Britannia: Quartering Act
Further Reading
Bulloch, Joseph Gaston Baillie. Biographical Sketch of Hon. Archibald Bulloch, President of Georgia, 1776-77. Nabu Press, 2010.
Jones, Charles C. The History of Georgia: Revolutionary Epoch. La Crosse, WI: Brookhaven Press, 2003.
Russell, David Lee. Oglethorpe and Colonial Georgia: A History, 1733-1783. Jefferson: Mcfarland, 2013.