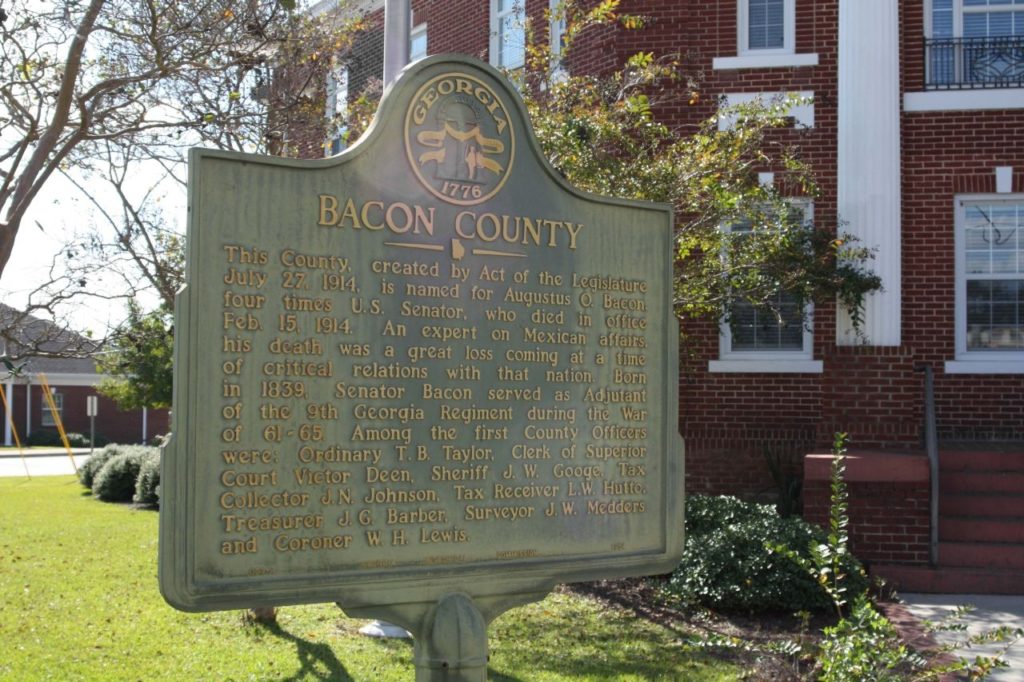 This week's #MarkerMonday looks at the Bacon County Historical Marker to tell the history of an important industry in Bacon County. Bacon County was founded in 1914 as the 151st county in Georgia. Bacon County received its name in honor of Augustus Octavius Bacon, a four- term US Senator who also served as President Pro Tempore in 1912. Alma, the only incorporated town within county lines, became the county seat. Today, Alma is known as the Blueberry Capital of Georgia, and each year it hosts the Annual Blueberry Festival to signify the importance of the blueberry crop in Bacon County and in Georgia.
Although blueberries are native to the Americas, the cultivation of blueberries as a domesticated crop did not begin until the early 20th century, and they were only introduced to be commercially grown in Georgia in 1925. Georgia's first blueberry seedlings came from Florida and were grown and bred at the University of Georgia's Tifton Campus. Researchers and farmers worked on developing a blueberry breed that could successfully be grown commercially in Georgia, and in 1955 they released the 'Tifblue' cultivar.
The blueberry industry came to Bacon County in the early 1970s and the first Georgia blueberry organization, the Georgia Blueberry Association, was created to help farmers sell their berries. The organization was largely unsuccessful. With the help of the Michigan Blueberry Growers Association, however, Georgia farmers expanded their blueberry crop acreage. Today, Georgia farmers receive research and education materials and promotional aid from the Georgia Blueberry Commission. With approximately 20,000 acres of blueberry crops, combined with the longest harvest season in the United States, April—August, Georgia is consistently a top-ranking blueberry producer. Blueberries are now the number one produced fruit in Georgia—they even beat the peach!
---
Explore the links below to learn more:
New Georgia Encyclopedia – Bacon County
New Georgia Encyclopedia – Blueberries and Strawberries
History of the Georgia Blueberry Festival
Georgia Blueberry Commission – History