To highlight this year's Georgia History Festival theme, "A Legacy of Leadership," November's #MarkerMondays explore Georgia's military history.
---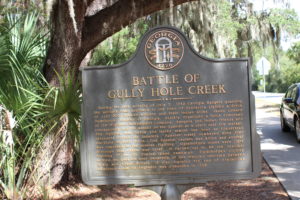 This week's #MarkerMonday highlights the Battle of Gully Hole Creek, fought near the town of Frederica on St. Simons Island. In 1739, war broke out between Great Britain and Spain, known today as the War of Jenkins' Ear. Causes of the war included acts of piracy by both nations and land disputes, especially the land separating the Spanish and British colonies in North America. Georgia, a colony that served as a buffer zone between the British and the Spanish, was central to the land disputes. The British initially were met with success in defending the Georgia colony in January 1740, when General James Edward Oglethorpe captured two Spanish forts, Fort Picolata and Fort San Francisco de Pupo, west of St. Augustine. In May of the same year, a campaign to take the fort of St. Augustine failed, forcing Oglethorpe to retreat to Fort Frederica on St. Simons Island to prepare for a Spanish invasion.
On July 7, 1742, Georgia Rangers sighted a force of Spanish soldiers and their Native American allies approaching the town of Frederica on the southern tip of St. Simons Island. Oglethorpe, with a force composed of the Highland Independent Company, Georgia Rangers, Chickasaw, Yamacraw, and Creek warriors, attacked the Spanish at Gully Hole Creek. In a battle lasting nearly an hour, the Spanish lost more than one third of their force. In contrast, Oglethorpe and British's losses were light. One Georgia Ranger wrote, "…The General pursued the enemy near 2 miles and halted on an advantageous piece of ground…" Oglethorpe and the British went on to defeat the Spanish in a second battle that afternoon, now known as the Battle of Bloody Marsh. Oglethorpe`s victory at Gully Hole Creek and later at Bloody Marsh ended Spanish hopes of reclaiming Georgia.
---
Explore the links below to learn more about the Battle of Gully Hole Creek and the War of Jenkins' Ear.
Military Road Historical Marker Text
New Georgia Encyclopedia (War of Jenkins' Ear)
Encyclopedia Britannica: War of Jenkins' Ear
Explore Southern History: Battle of Gully Hole Creek
Explore Southern History: Battle of Bloody Marsh
Further Reading
Coleman, Kenneth. A History of Georgia. Athens: University of Georgia Press, 1991.
Herbert E. Bolton and Mary Ross, The Debatable Land: A Sketch of the Anglo-Spanish Contest for the Georgia Country (Berkeley: University of California Press, 1925).
Marley, David. Wars of the Americas: a chronology of armed conflict in the New World, 1492 to the present. Santa Barbara: ABC-Clio, Inc., 1998.
The Georgia Historical Quarterly has published the following article about the Battle of Kettle Creek which can be accessed on JSTOR. If your library does not have access to JSTOR, you can go to www.jstor.org and create a free MyJSTOR Account.